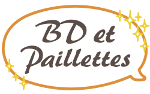 "BD et Paillettes" (we could translate it by "Comics and Sparkles") is a challenge offered by the French forum AllfanartsV2.
The aim is to realize the story that we didn't dare to begin. How ? The fellowship offers to hold this pace : one comic page and also one illustration per week.
Reading our comics is a guarantee to enjoy them from the beginning to the end !

Echo is a mute young woman who wants to search for her father, who disapeared a long time ago. She lives in the kingdom of Taranis and in the main castle of the kingdom as the child of a great warrior. But a war is about to begin...
Lire la BD
Les dernières mises à jour :

Chapter 6 - p162
(03/06/2018)
FICHE DETAILLÉE >
Remember. Magic existed There was a time where mythical creatures walked on this earth. Seeing the human heart being corrupted, they stopped helping them. Then Man decreed that what is not given to him, he will get by force. The world was silent, blood flowed, everything was over So why do you fight, little white kirin? How ironic that the one who does not possess colors, wants to give some to the world...
Lire la BD
Les dernières mises à jour :

Chap1: Caged bird page 18
(27/03/2016)
FICHE DETAILLÉE >
17-09-2018 14:12
Bonjour et bienvenue sur le portail de BD et Paillettes.
À partir d'ici vous pouvez accéder à toutes nos bandes dessinées, bonne lecture !

At the beginning there was the Witch.
And the Witch laughed.
And she cursed them.

Lire la BD
Les dernières mises à jour :

Chapter 10 - The pain is inherent
(03/06/2018)

You bunch of good-for-nothing
(11/10/2013)
FICHE DETAILLÉE >

Monsters, spirits and other magical beasts still exist. Living alongside humans, they are under a strict watch and their outbursts are taken care of by a special society. Under the cover of a part time job, three students will learn how to use their powers and make sure the existence of such creatures remains a secret.
Lire la BD
FICHE DETAILLÉE >

27th Century, planet Novalennda. Earthlings and Novalians live together in peace, in this preserved world. The established balance is threatened by a nation thirsty of conquest and revenge. But the iiu is awakening, and is going to do everything to prevent a new war...
Lire la BD
FICHE DETAILLÉE >

What was a stranger doing in Edeline house back yard ? She will learn more about him, his friend and the former house owner through an old diary…
Lire la BD
Les dernières mises à jour :

p149 - Mister Oh-So-Perfect
(13/10/2016)
FICHE DETAILLÉE >